GMC Tuscany Trucks Lineup & Specs Near Baltimore, MD

Behold: the GMC Tuscany trucks lineup has arrived. Visit our dealership today and get to know the customized lifted trucks that take a great GMC model and make it even better. The Tuscany customization packages for our lineup of GMC trucks leave no stone unturned and will enhance every detail, big or small, in your truck.
Come down and see all that our new GMC inventory has to offer for families that can't wait to get their hands on an amazing array of vehicles in every shape and size.
The Tuscany Motor Company is an industry leader in building custom trucks. This company's various packages can be applied to a range of GMC trucks, allowing for customization galore. These packages will make your vehicle even more rugged and durable while imparting a new sense of refined style.
GMC Tuscany for Sale in Glen Burnie, MD
One thing you'll notice right away when you visit our lot is that we have plenty of cars and trucks to choose from, including lifted GMC trucks for sale.
Even special and exclusive vehicles are available in our inventory, such as the GMC Tuscany trucks lineup. The lifted trucks by Tuscany Motor Co. are one-of-a-kind. You can rest assured that wherever you take your new truck, there won't be another one like it. These trucks are built piece-by-piece in a meticulous fashion by our team of talented and experienced technicians that love themselves some trucks.
When you visit our all-star dealership located just up the street here in Glen Burnie, MD, you'll first be greeted by a welcoming and warm team of vehicle experts who will start you off right on your journey to a new vehicle.
If a broad-shouldered, ground-bursting, all-terrain truck is what you want, our staff will introduce you to our sweeping GMC lifted trucks selection. We are intimately familiar with the GMC Tuscany price for various packages, specific customization details other retailers miss, and much more. Our team knows each of these tall and supportive trucks like the back of their hand and can easily explain even the most high-level mechanisms within your new truck in an accessible manner.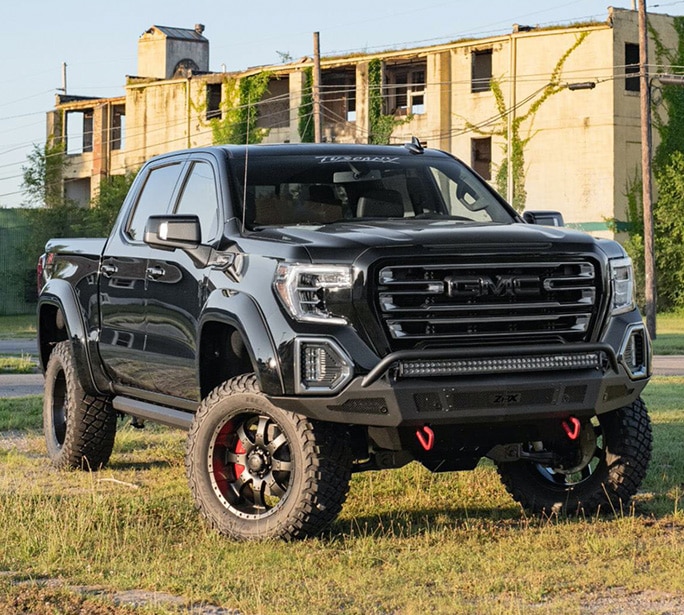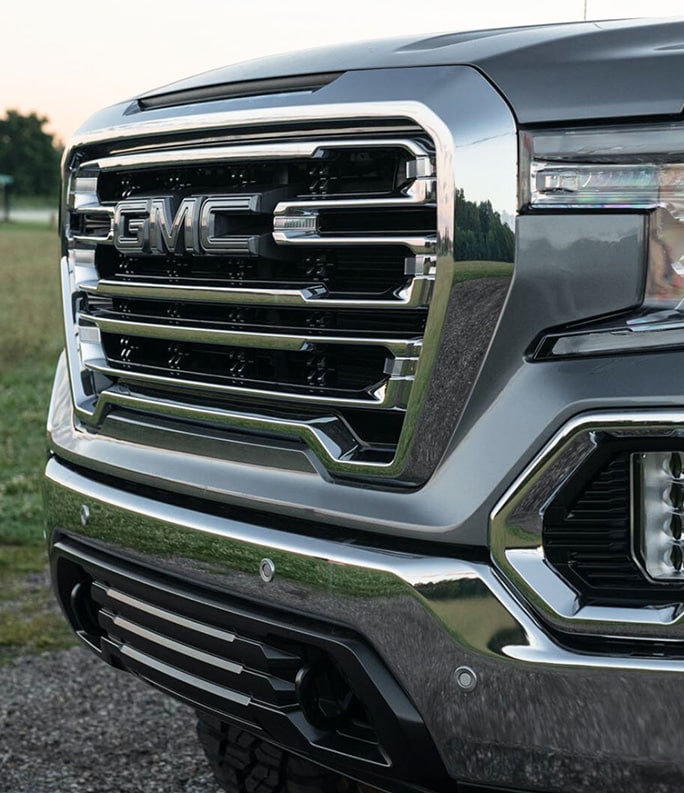 Tuscany Durability and Style
Ask our team about our hulking GMC Sierra Tuscany models that can carry anything and everything. You can all pile into your new custom truck when you want to take your buddies off the beaten path. Bring plenty of passengers and encourage them to take what they want along for the ride — it can all fit inside the cavernous beds of the GMC Tuscany trucks. The GMC Sierra is just one of the many GMC lifted trucks for sale that we have here at the dealership — make sure to check out all of them.
All you'll be missing is a train conductor to rally everyone out of the house and tell them, "All aboard! We are leaving the station now!"
Have a wild side you like to unleash in a striking style? The GMC Tuscany Black Ops is a member of our GMC Tuscany trucks series that always turns heads when it glides by. Jealous onlookers and fellow truck lovers alike won't be able to take their eyes off of this startling silhouette. Whether it's dawn, day, dusk, or the dead of night, this truck drives as good as it looks — which is pretty darn good! This package is designed to honor the American heroes for whom it is named: the special operations forces who risk life and limb on our behalf.
Sample our selection of GMC SCA Performance trucks today and see which model makes the hairs on your arms stand when you take hold of all the power it contains.
Industry experts praise these trucks continuously for adapting to a change in weather conditions rapidly or providing extra support on the rockiest of jagged and uncomfortable terrain. When your trip runs into wet, unpredictable, or other unsettling conditions, lean on the truck designed to power forward without worry.
GMC Badlander for Sale Near Baltimore & More
We can't wait to show you all of the hardscrabble, rugged GMC Tuscany trucks for sale that we have on deck right now. Once you're behind the wheel of one of these bold and accessorized truck models, you won't want to take the wheel of anything lesser. It's like driving a truck built for a superhero, or at least as close as we can get to that for now. If next year's model can fly, we'll let you know.
In the meantime, come see our selection of beautiful new and certified pre-owned vehicles today at our dealership. Drivers who frequent the roads near Columbia are just a couple of turns away from a complete car care center here in Glen Burnie, MD, that will be there when you need it most. When trouble strikes or shows signs of impending problems, give our service department a call or quick visit. They're the true heroes here!
A part of our parts and service department that comes up big for local drivers is our certified battery center near Pasadena. If your battery is the reason you're not flying around town crossing tasks off your to-do list, come see our team as soon as possible.
Our team is excited to show you all we have, including a litany of otherworldly GMC Tuscany trucks that will make you feel like royalty when you take the reins.
Frequently Asked Questions About GMC Tuscany Trucks Near Baltimore
What are Tuscany Trucks?
Tuscany trucks are rugged, durable, and sleek. They're sure to catch attention anywhere you drive them. On the technical side, a Tuscany truck is a GMC or other manufacturer's truck that has been given a Tuscany upgrade package. These include premium parts, performance tuning, and other upgrades. In short, a Tuscany truck is any truck that has been upfitted with a Tuscany customization package.
Who makes Tuscany Trucks?
Tuscany trucks are customized trucks; premier manufacturers like GMC first build them, and then they are given a comprehensive custom overhaul at Tuscany Motor Co's American manufacturing facilities. Their factories are located in Indiana, Georgia, Colorado, and Alabama, and their OEM-approved custom parts enhance the all-terrain performance and show-stopping looks of already-awesome trucks.
When you drive one home from our GMC dealership in Glen Burnie, MD, you'll also get a factory warranty and nationwide dealership service.
What is a Tuscany Package?
A Tuscany package is a combination of performance parts, tuning, and interior upgrades — such as leather seats — that are applied to a truck. These packages make GMC trucks even more impressive than they already are. They generally can include lifts, new wheels and tires, and a wide variety of aesthetic upgrades like tinted windows, leather interior upgrades, and LED light bars.
What is included in the GMC Tuscany Package?
There are two GMC Tuscany packages you can discover at our lifted truck dealership near Pasadena.
One is the GMC Harley-Davidson package. It transforms the GMC Sierra with a custom body kit, bumpers, grille, badging, a Harley-Davidson branded tonneau cover, and distinct solid aluminum exhaust tips. It adds a FOX shocks lift kit, Harley-Davidson-inspired milled wheels, and grippy all-terrain tires. The piece-de-resistance is the custom interior with motorcycle-grade leather upholstery.
The second is the GMC ZRX package. It offers the same lift kit and all-terrain tires. It includes a more rugged body kit and a full-metal off-road bumper, integrated light bars, different all-terrain wheels, a stealthy black custom exhaust, and a custom interior with carbon fiber trim.
What is a Tuscany Badlander?
A Tuscany Badlander is the truck you've dreamed about. It's rugged and ready to take on any terrain that gets in your way but luxuriously crafted with a custom interior and premium leather upholstery. Thanks to exclusive wheels, meaty all-terrain tires, and custom exterior components, it looks like a true beast. With a performance exhaust announcing your arrival and a custom lift kit letting you ride high, a Tuscany Badlander near Columbia is the total package for lifted-truck greatness.
Discover More Buick GMC Research In Glen Burnie, MD:
---
Make an Inquiry
* Indicates a required field