2024 GMC Sierra EV Release Date, Reservation, & More

Reserve Now
The new GMC Sierra EV promises to be a bold step forward into our shared electric future. This truck offers all the capabilities of a powerful GMC vehicle without any gasoline. You can skip the pump while also contributing toward the health of our shared planet. In fact, GMC has done such a masterful job of designing this electric vehicle (EV) that its output surpasses that of most gasoline or diesel trucks on the market today. Read on to learn about the GMC Sierra EV release date, possible specs, charging times, interior, and more.
---
GMC Sierra Denali Electric Truck: Performance Potential
The new GMC Sierra EV will run on the dynamic Ultium platform, an all-electric vehicle architecture that undergirds GMC EVs. It allows you to customize your driving experience to the conditions you're facing and your personal preferences. This truck will boast five different available driving modes:
Standard Mode
Towing and Hauling Mode
Off-Road Mode
My Mode
Max Power Mode
These five options will allow you to conquer any obstacle. The Standard Mode is, of course, the drive mode that most folks will use in their day-to-day lives. It's designed for efficient cruising on local streets and highways. The Towing and Hauling mode leverages the incredible powertrain of the new GMC Sierra EV to haul or tow without expending too much of your battery's charge. Off-Road mode lets you crawl over broken terrain like a military vehicle.
The My Mode setting on your new all-electric truck is exactly what it sounds like: your mode. You can design it yourself, allowing you to build a highway-oriented racing setting, an efficient cruiser configuration, or whatever else you can come up with. For many folks, the Max Power mode is perhaps the most compelling of the bunch: It offers you GM-estimated 754 horsepower and 785 pound-feet of torque. This should, according to GM, allow you to blast from 0 to 60 in less than four and a half seconds. Your passengers will have to pick their jaws up off the cabin floor once you've shown them the power of your new GMC Sierra EV truck.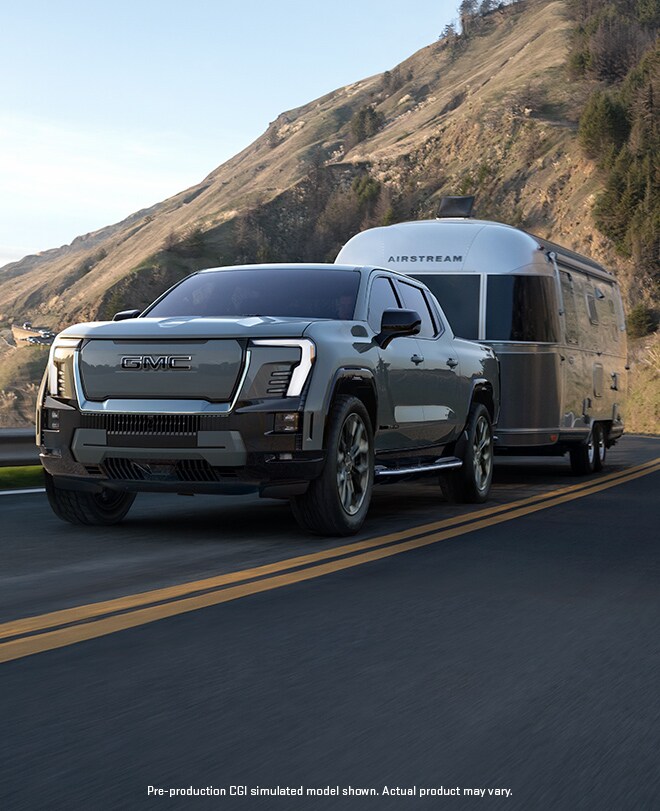 ---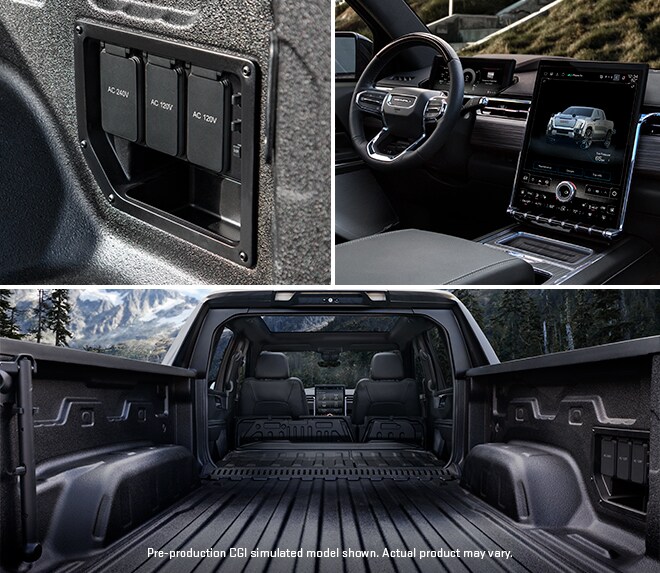 GMC Sierra Denali EV: Incredible Utility
The new GMC Sierra EV has clearly been designed by experts who actually drive trucks because it is replete with features and capabilities that every truck driver will appreciate. The machine is configured so that it can serve as a mobile power source, using its battery to run your tools or campsite. In a pinch, the GMC EV Sierra can even power the appliances in your home for a time if the electricity goes out.
The truck will also include bold features that will prove helpful to folks when they have large loads to haul or a tough job to tackle. The available MultiPro Midgate allows you to fold the back wall of the cabin out of the way, extending the bed length significantly. Those pipes or boards don't have to dangle out past your back gate – they can be slid up behind the front row instead.
This new all-electric truck is rugged and durable, but it is also a vehicle straight out of the future. The sleek dashboard boasts a large touch screen for controlling music and navigation; you'll be able to connect your phone to the vehicle so that you can easily access your own music library and podcast favorites. The premium sound system will blanket you and your passengers in your favorite tunes with a press of the screen.
---
GMC Sierra EV Release Date
You can get on the waitlist for your 2024 GMC Sierra EV now. If you're interested, we'd recommend you reach out soon – this muscular and fuel-efficient vehicle is going to be popular and may well sell out in advance of its release. It certainly wouldn't be the first time that such a thing occurred. The GMC Sierra EV Denali Edition 1 will be available in early 2024, with the Sierra EV Denali coming out in spring 2024. To say that our team is excited is quite the understatement.
The GMC Sierra EV truck is a compelling option for drivers who enjoy power and efficiency. Some folks, however, want to get behind the wheel of a new vehicle before early 2024. We'd suggest checking out our new GMC Sierra and our wider new GMC inventory if that's the position you find yourself in. Whether you want to buy a vehicle today or place an order for a new GMC Sierra EV, we look forward to working with you soon.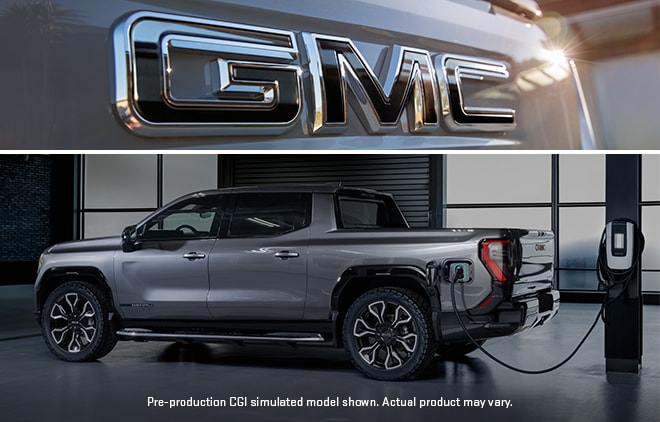 ---
---
FAQ
Is there an electric Denali?
The new GMC Sierra EV is the all-electric Denali that we have all been waiting for. This dynamic truck offers incredible performance, a comfortable and cutting-edge interior, and the utility you need to tackle any job. You can get on the waitlist for this fantastic new vehicle today – contact us with any questions about the reservation process.
When can I order the 2024 GMC Sierra EV?
The time has come: You can reserve the new GMC EV Sierra today. Doing so is the first step in the process of getting behind the wheel of this muscular all-electric truck. After that, we'll help you stay up to date with new developments in the ordering process. Visit us today to discuss how you can drive the new GMC Sierra Denali EV.
What makes a Denali different?
Denali vehicles are named after the tallest mountain in North America because they tower high above the competition. This new truck is going to offer more than 700 horsepower in its Max Power driving mode – this level of output is incredible, to say the least. It also has versatile features, like its ability to serve as a mobile power source.
---
Make an Inquiry
* Indicates a required field