Buick GMC Oil Change Center Near Baltimore, MD

When it comes to smooth vehicle operation, an on-time Buick GMC oil change is as essential as a service gets. Your oil must perform at its peak, and that peak only lasts for so long. The good news is our Certified Service experts have you covered with convenient, fairly priced service when the time comes. Even better, you can also get a tire rotation service and multipoint vehicle inspection performed with your oil change when you stop by.
What Goes on During a Buick GMC Oil Change?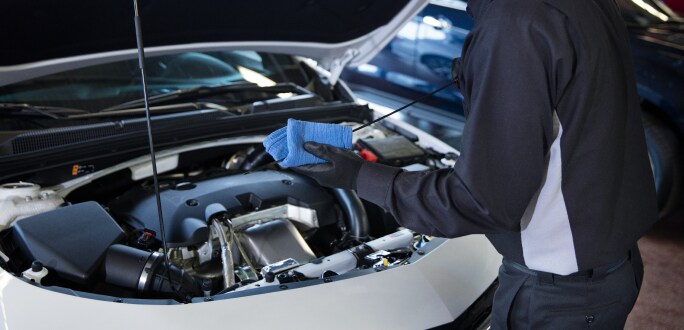 Whether it's a brake service or an oil change, watching your vehicle pull into a service bay and have a team of technicians descend upon it can be either fascinating or nerve-wracking. Not to worry, as an oil change is a straightforward process:
Oil drain plug is removed
Oil is drained from vehicle
Oil filter is removed and disposed of
Drain plug is re-installed
New oil filter is installed
Vehicle is filled with new oil
Correct oil level is confirmed
When Will I Need a GMC or Buick Oil Change in Glen Burnie, MD?
We'll provide you with an interval to have your next Buick or GMC oil change performed, and your owner's manual will give detailed mileage and time intervals too. But, many modern vehicles come with an advanced system to lend a hand. It's called an Oil Life Monitoring System (OLMS), and your recent model-year Buick or GMC vehicle likely has it equipped.
Operating conditions, including the mileage driven, vehicle speed, engine RPM, engine temperature, and more, are constantly monitored by it. The OLMS combines these readouts and intelligently determines when an oil change is needed. You'll see a dashboard light illuminate and potentially a "___% oil life remaining" warning pop up on your vehicle's screen. When you see the light or a warning that the remaining oil life is low, stop by a service center as soon as possible for a Buick GMC oil change.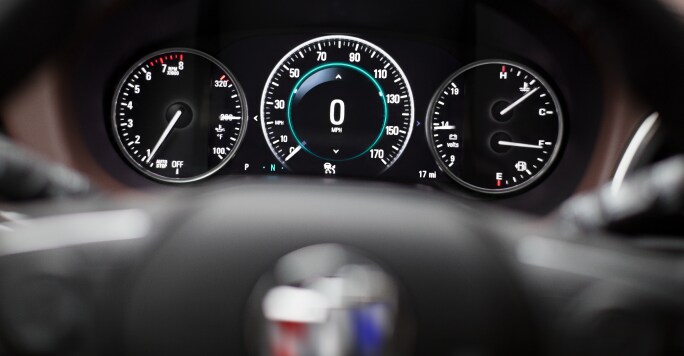 How Else Can I Check If a Buick GMC Oil Change Is Needed?

Sometimes, the provided interval for your Buick or GMC dealer oil change may not accurately reflect the vehicle's needs. Certain driving conditions, like frequent driving in rush-hour traffic, can cause the oil to chemically break down and lose effectiveness before the interval is hit. Even with this and the OLMS in mind, be sure to consult your owner's manual and use the dipstick process to check your oil levels frequently.
Which Oil Do You Use?
It will vary. Our Certified Service experts will pick out the right specification of oil for your vehicle, but, like picking a set of tires at our tire shop, you choose the specific type to use. In essence, there's synthetic and conventional oil. We recommend synthetic oil for your vehicle for several reasons. Whether ACDelco dexos1™ Full Synthetic Oil or Mobil 1™ Full Synthetic Oil, the benefits offered over conventional oil are as follows:
The oil change interval can last longer
Improved resistance to high temperature
Improved cold-temperature flow and lubrication
Improved stability to resist chemical breakdown
Can provide additional engine wear protection
Engine efficiency and performance can also improve with synthetic oil. A conventional oil change will still do the trick, though. But, we recommend talking to our service team about the benefits and which synthetic oil is right for your vehicle when you stop by our service center near Columbia.
Frequently Asked Questions
Do Buick GMC vehicles require special oil?
Most Buick GMC vehicles should be given full synthetic oil, as this special blend of oil achieves the best performance, efficiency, and lifespan for your engine. Plus, it helps clean the sludge buildup in your engine, keeping things clean and smooth and helping to maintain your vehicle's resale value in the long run. Contact the Wilkins Buick GMC oil change center near Baltimore to schedule your synthetic oil change and enjoy these benefits.
Does GM recommend synthetic oil?
Yes, GM recommends synthetic oil for use in all modern GM vehicles (especially Buick and GMC vehicles), and recommends it for many good reasons. Synthetic oil in a Buick GMC vehicle will last longer than conventional oil, as it resists chemical breakdown and the temperature and force extremes in your engine with greater strength. It may cost a bit more than synthetic oil, but the longer-lasting oil change interval and performance gains are well worth the premium.
How often does a Buick GMC vehicle need an oil change?
A Buick or GMC vehicle will typically need an oil change at every 7,500 miles when you use synthetic oil, but regardless of mileage driven in-between oil changes, you should get fresh oil filled into your vehicle every six months to protect against the natural chemical breakdown of engine oil. At Wilkins Buick GMC, we make following this interval easy; schedule your savings-filled oil change in Glen Burnie, MD, today.
Schedule a Buick GMC Oil Change Service Near Pasadena Today
Your vehicle will thank you for showing it the care it deserves, and we'll thank you for being a customer by ensuring friendly customer service, competitive prices, and timely work. Whether it's for our battery center or a Buick dealership oil change near Baltimore, you can conveniently schedule your service online. Once you do so, stop by to keep your vehicle running at its best.
Discover Our Service And Parts Departments Near Baltimore, MD: